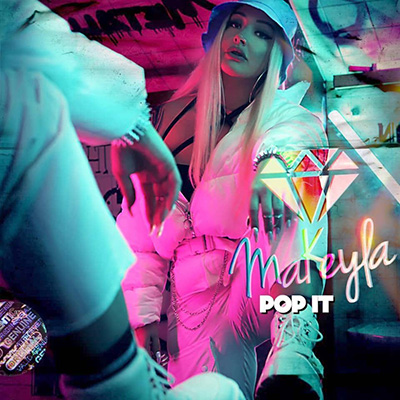 MaKeyla was born in Stockholm and moved to Lund, a small town when she was seven years old. Today she is 26 years old and has in the last ten years as an independent artist managed to gather a number of unique experiences.
At the same time, MaKeyla is a person who never fit into the norm. All my life has been like a long, steep uphill where the hard way has been the only way. With an upbringing marked by bullying, music became her escape from reality. A childhood with few friends and a lot of music resulted in MaKyela writing her first song when she was ten years old.
As a 16-year-old, she had already worked with various songwriters and producers. In addition, her single "Give Up On You" was added to P3's playlist. In 2014, she was hand-picked by Idol jury member Kishti Tomita and received an anniversary ticket into the competition. But just when MaKeyla thought that her career would really take off, she was told that Sweden was not ready for her music. She was instead encouraged to do house and pop.
I do not fuck around with dreams, I just tryna make them real… I got my eyes on the price that's a fact, I wont settle for less got no time to react, MaKeyla sings in the song "Pop it" and it's the same mentality that permeated several of her career decisions.
Instead of waiting for the Swedish music industry's acceptance, MaKeyla chose to work abroad. One of Drake's first music producers, Snaz, had contacted her via the LinkedIn service. MaKeyla was only 21 years old when she boarded a flight to Toronto. Alone, young and new in a foreign country, she started working with Snaz and released the song "Nemesis". It turned out that both Canada and the United States were ready for MaKeyla's music. The single was picked up by the American radio channels Hot 98 and 96 Kix. The fact that the music rotated in the USA led to her coming into contact with industry colleagues in Los Angeles, the city that also became her next destination.
In Los Angeles, MaKeyla came in contact with the rapper Juice who took on the mentor role. From having a hot RnB song on rotation in the US, she entered the hip hop culture. Singer MaKeyla learned how to write bars and to improvise freestyles. She spent almost three years in Los Angeles, initially as an outsider.
But purposefully and curiously, she carefully studied the culture and managed to become part of the battle scene.
MaKeyla has undergone many trials and has today managed to break free from the opinions of those around her. She has found herself, her sound and her unique experiences are reflected in the music she creates. The songs include various genre influences such as reggae, 90s RnB, Afrobeats and hip hop. The American battle scene left its mark on MaKeyla's lyrics, which always contain powerful punchlines.
You do not have to have the best conditions to succeed. You just have to be incredibly determined, stubborn and believe in yourself. I have never doubted for a second that this is what I am meant to do, says MaKeyla.
Today she lives in Stockholm and is currently working on a new project, where she has received help from the producer Keyz from Regal republic, to put together a bunch of established and experienced songwriters. The project includes collaborations with, among others, the songwriter, actor and RnB artist Chaz Marcus Fleming. Also the Grammy-nominated songwriter Soli Ridge, who among other things worked with RnB star Ne Yo. MaKeyla has also worked with songwriter David Wade, who has five Grammy nominations in his luggage and has previously collaborated with world stars such as Nipsey Hussle, Ariana Grande and Kelly Rowland. The songs "Pop it" and "3 Dimensional" were written by MaKeyla together with the American TV profile, artist and songwriter Zshakira Gray.
MaKelya's musical career consists of both ups and downs. The journey has been long and today she wants to share her experiences to be able to inspire others. From being the little kind girl who was reprimanded, today she does exactly what she wants.
-Now I have just given a damn that I will break RnB in Sweden, in English, she says.